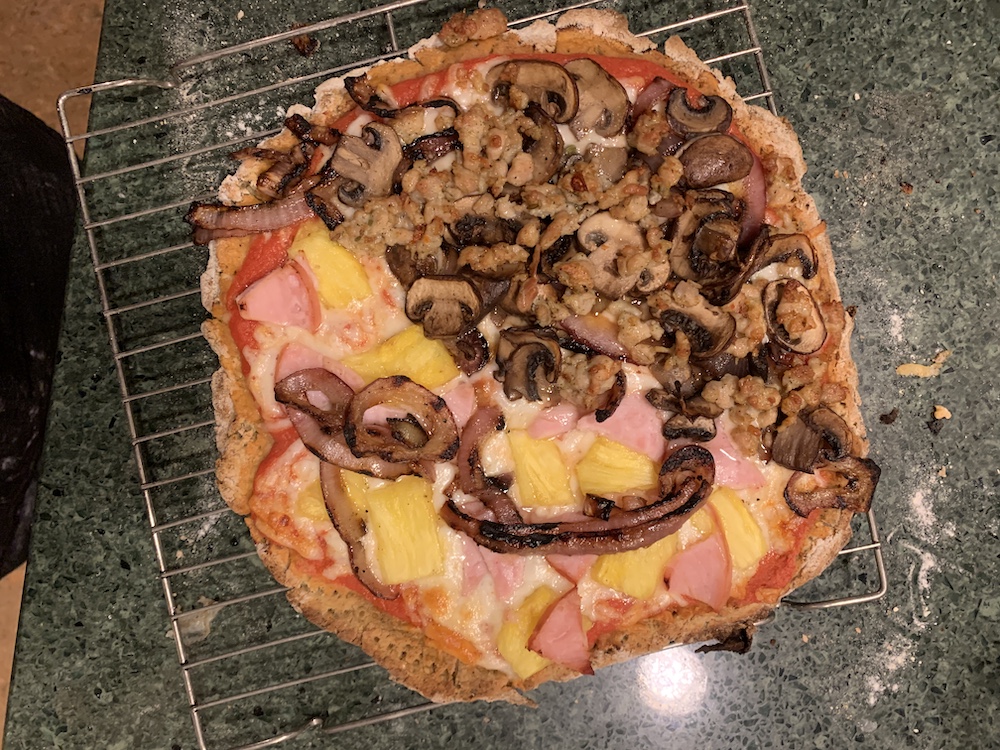 I made some really tasty cauliflower-crust pizza yesterday. It's a great alternative if you are looking for something that has less carbohydrates in it. This recipe uses cauliflower, and some brown rice flour and tapioca, but has no cheese in the crust, so it's more like a regular gluten-free pizza that is closer to a paleo diet.
Equipment
Yes, the equipment does matter. The two critical ingredients for me are the baking steel and the pizza peel.
Baking Steel – this is like a pizza stone, but it's made of a single 1/4″ slab of steel. It's amazing! Because of its conductivity, you can bake a pizza in your regular home oven that tastes almost like it was made in a wood-fired oven. Essential.
Metal pizza peel with wood handle – another must-have tool, this allows you to slide the pizza on and off the baking steel easily. (The edges of this one were razor sharp– I used some fine-grit sandpaper to round them off so I wouldn't get cut.)
Small pizza roller – optional, but makes it easy to roll out the pizza crust. Regular rolling pins and throwing don't work since gluten-free dough is a different consistency than wheat dough.
Stainless steel dough scraper – to lift up the edges of the dough.
Stainless steel cooling racks – helps the pizza stay crispy.
Pizza cutter – optional, but useful for making nice cuts. Some people use kitchen scissors.
Food processor – for making the cauliflower snow
Crust Ingredients
2 14oz packages of riced cauliflower (or two large heads of cauliflower)
1/2 teaspoon kosher salt
1/2 teaspoon dried basil (crush it even more between your fingers)
1/2 teaspoon dried oregano (crust it even more between you fingers)
1/2 teaspoon garlic powder
optional a few shakes of crushed red pepper
3/4 cup brown rice flour
1/4 cup tapioca flour
2 tsp baking powder
1 1/2 tablespoons olive oil
1 egg
Pizza Ingredients
Cauliflower crust (this recipe)
Toppings (cheese, mushrooms, etc.)
Instructions
Place a pizza steel in the oven, or baking sheet if you don't have a pizza steel or stone. Preheat oven to 550F. 
Place a large piece of parchment paper on the counter and spray it with nonstick cooking oil or brush the parchment with olive oil.
Use 2 14 oz packages of riced cauliflower. Or wash and thoroughly dry a two heads of cauliflower. Cut off the florets, you don't need much stem. Just stick with the florets. Should be about 28 oz. 
Pulse in your food processor for about 30 seconds, until you get powdery snow like cauliflower. 
You should end up with about 4 cups cauliflower "snow". Place the cauliflower in a microwave safe bowl and cover. 
Microwave for 6 minutes. 
Dump cooked cauliflower onto a clean tea towel and allow to cool for a bit before attempting the next step.
Once cauliflower is cool enough to handle, wrap it up in the dish towel and wring the water out of it. A lot of water will come out. You want to squeeze out as much water as possible. This will ensure you get a chewy pizza-like crust instead of a crumbly mess. 
Put cauliflower into the mixer bowl. Now add all the spices, the brown rice flour, the tapioca, baking powder, and the olive oil. Use the mixer to incorporate all the ingredients. 
Now beat the egg, add it, and mix away again.
Once mixed together, use the roller or your hands to form the dough into a crust on your oiled parchment paper. Pat it down thoroughly, you want it nice and tightly formed together.
Dust the top of the crust lightly with brown rice flour so the roller won't stick.
Use the small roller to roll the dough out thin and evenly. Don't make it too thick or thin. This is going to be the bottom of the pizza.
Flip the crust onto the peel. Here's one way to do it with very little effort and risk:

Dust the crust evenly with rice flour again, so it won't stick to the peel.
Pick up the parchment and place it on a baking sheet or upside down baking pan.
Flip the peel and put it on top of the rice-dusted crust.
Now flip the baking-sheet-crust-peel sandwich so the crust is parchment-side up on the peel.
Remove the baking sheet.

Peel off the parchment paper and discard. Use your hands to even the edges of the pizza and make a small ridge around the outside to hold the sauce and cheese.
Dock the crust lightly all over with a fork to let moisture escape while baking.
Use the metal pizza peel to slide your crust onto the pizza steel in the oven.
Par-bake the crust for about 7 minutes, or until it starts to turn lightly golden brown and the edges crisp up. Remove from oven.
Top the pizza with sauce, cheese, and other toppings.
Put the pizza back into the oven for another 6-10 minutes or until fully cooked.
Remove from oven and place on cooling rack for 5 minutes or until cooled sufficiently. Placing on a cooling rack will help the crust stay crispy.
Cut with a pizza cutter or kitchen scissors and enjoy!
(Adapted from The BEST Dairy Free Cauliflower Pizza Crust! )